update (16 August 2022): The Tanzania Zambia Railway Authority (TAZARA) posted on Facebook on 15 August 2022 that the repairs at the Chambeshi Bridge near completion. We'll keep you posted!

update (13 July 2022): The re-opening of the Chambeshi Bridge has been pushed back due to the delayed arrival of steel members from South Africa. The repairs will now be completed by 16 August 2022 and the testing and commissioning of the line by 19 August 2022.

update (10 June 2022): TAZARA Regional Manager Kambani Ndhlovu: "We will not rush to commence full operations after completion of repair works on July 22 but will wait for a period of three to four weeks of testing to ensure that the bridge is perfect and later have it recommissioned." [src.]

update (07 June 2022): According to a recent update by Tanzania-Zambia Railway Authority (TAZARA) on Facebook, the full cross-border services will only resume sometime towards the end of July 2022, once the Chambeshi Railway Bridge is repaired.

The Managing Director of the Tanzania-Zambia Railway Authority (TAZARA), Eng. Bruno Ching'andu, has announced that the Chambeshi Rail Bridge, which suffered major damages from a goods train accident in May 2021, will be ready for use again by the end of July 2022. TAZARA is planning to resume freight operations across the bridge on 22 July 2022 and to commence all passenger operations shortly thereafter, including cross-border passenger services between Tanzania and Zambia which were suspended in May 2020, in the wake of the Covid-19 pandemic.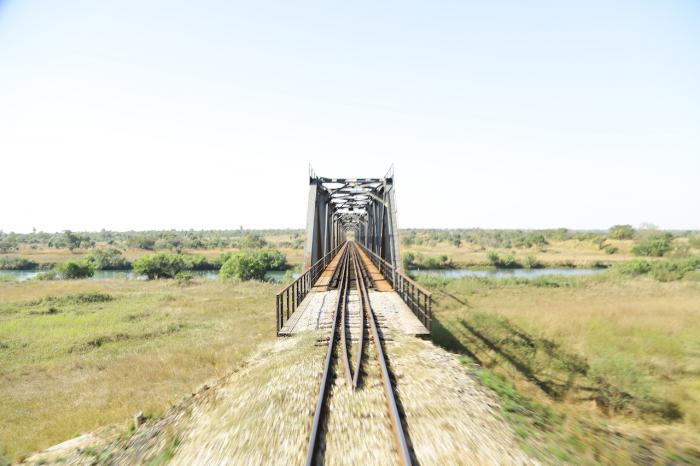 Chambeshi Rail Bridge
© TAZARA
The
Tanzania-Zambia Railway Authority (TAZARA)
is a bi-national railway, jointly owned by the Government of
Tanzania
and the Government of
Zambia
on an equal share-holding basis. The 1,860 km-rail runs from
Tanzania
and East Africa's major seaport of
Dar es Salaam
into the heart of
Zambia's
Central Province, terminating at New Kapiri-Mposhi, where it is further linked by road and rail to
Zambia's
capital city,
Lusaka
(about 200 km),
Zambia's
mining nerve centre, the
Copperbelt province
(about 100 km) and the Democratic Republic of Congo (DRC).